Meek Mill and Nicky Minaj fight dirty on Twitter as they trade outrageous accusations
Written by AaronWeb on February 6, 2020
Nicki Minaj's feud with ex-boyfriend Meek Mill spilled over to social media on Wednesday (Feb. 5) with an ugly war of words that saw Nicki accuse Meek of beating women in the past and Meek accuse Nicki of defending her brother amid child rape accusations.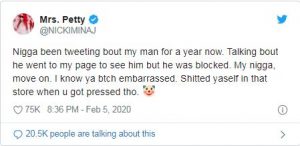 "You beat your own sister and taped it," Minaj tweeted. "Spit on her & taped it. Kicked me in front your mother and sent her to the hospital. Sucking Drake d–k made u feel tough again. Move on. N—a been tweeting bout my man for a year now. Talking bout he went to my page to see him but he was blocked. My n—a, move on. I know ya btch embarrassed. Shitted yaself in that store when u got pressed tho."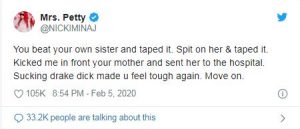 Minaj continued to go after Meek on her Instagram story, posting several of his outfits that she wasn't a fan of. "You a [clown]. U do IT for likes. #TwitterFingers beat women, scared of men," she wrote.
Mill hopped on Twitter to fire back at Minaj, saying she defended her brother who was recently convicted of raping an 11-year-old girl, for which he was sentenced to 25 years to life in prison. "The only way you can try to kill my career is to say I beat women," he responded. "Talk about ya brother convicted of rape and you been knew and paid for his lawyer … ya little brother touched that lil girl too! You know I know … you want me to crash with ya boyfriend and I won't."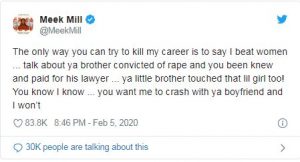 The Championships rapper also called Minaj out for being "full of hate" in a since-deleted tweet. "Surrounded by rapist talking what? stop playing you picked a great time to be saying I ever put my hands on you," he continued. "You full of hate and the whole industry know you full of hate… and ya bag getting low so you wanna destroy me."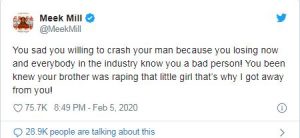 Meek signed off by telling Nicki to "go to church." "My girl is with me pregnant watching me tweet about my ex is very clownish … Ima exit," he concluded. "For clarification I don't hit women and I won't let my interviews be filled with question about her or any situation to do with her when I come out to do press for my new album! No devils tricks."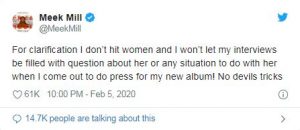 ---