"Mourinho Is Still Special" – Matic Lauds Boss
Manchester United midfielder Nemanja Matic has claimed that manager Jose Mourinho's desire for success, as well as his past achievements, make him "special".
After helping Chelsea secure their second Premier League title in three years, the Serbia international swapped west London for the North West in the hope of rekindling former glories with his ex-boss.
No outfield player has recorded more minutes for the Red Devils than the 29-year-old so far this season, and while discussing his Portuguese coach with Sky Sports ahead of Monday's top-flight clash with Crystal Palace, he insisted that the self-proclaimed Special One is still just that.
Advertisement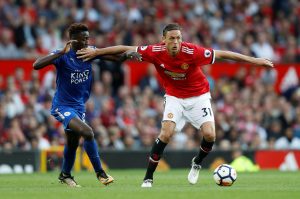 "He always wants the best", Matic said. "He always wants to win. Of course, him as a coach, if you play good he always thinks that you can play better. This is good. He always asks you to do more.
"I am happy that we work with him and he's a coach who won many, many trophies in his career, and for sure we can learn a lot of things form him.
Advertisement

"He won many things. The coach is good if he won the trophies. He won in every country he has been, he has won a lot, and that's why they call him special."
During his first 12 months in the Manchester United dugout, Mourinho oversaw his side capture the Community Shield, League Cup and Europa League, with this season's aims consisting of securing FA Cup and Champions League success.
The gap to Manchester City in the Premier League title race seems too much to overcome; something Matic is fully aware of; however, despite the current 18-point deficit, the midfielder shares his mentor's resilient outlook.
Advertisement

"I am always positive," he added. "Obviously the gap between us and City is big, but we will fight until the end."
---