Nigerian musician Adeniji Jemiriye blasts Falz for his new video
Written by MaxFM on May 29, 2018
Shortly after International star, Diddy gave Falz appraisals for the song "This Is Nigeria", a US based Nigerian performer, Adeniji Jemiriye took to her Facebook page to blast Falz over "This Is Nigeria"
According to the former Nigerian Idol contestant, the video is a slap on the country as his music tends to dishonor the efforts of hardworking Nigerian youths. She believes that the continue chanting of "THIS IS NIGERIA, EVERYBODY IS A CRIMINAL" is an insult on the nation.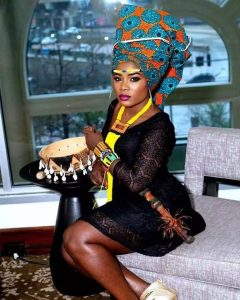 Below is how Jemiriye shared her thoughts on her Facebook page.
"This Is Nigeria, Everybody Is Not a Criminal This is certainly not the truth that Nigerian youths want to hear now, but the trending song "This Is Nigeria", by Nigerian rapper, FalzThaBahdGuy, which is a cover of the song "This Is America" by US rapper, Childish Gambino, is a colossal disservice to the millions of innocent Nigerians home and abroad working hard everyday and making this country proud. Interestingly Falz has always attacked "Yahooboys" for bringing Nigeria's name to disrepute, but what is the difference between "Yahoo boys" and Falz who just released a song chanting "Every Nigerian Is A Criminal" which is now being reposted on different social media by popular celebrities with millions of followers including American music mogul, Diddy who has more than 10million active followers on instagram?
Is this song not a weapon of mass destruction to our collective image laundry efforts on this country? As at the time of writing this, "This Is Nigeria…Everybody Is A Criminal" has been viewed by over a million people globally on Falz's YouTube page alone just 5 days after its release; not to talk of the different instagram pages and YouTube pages it has been shared on. Granted, Nigeria, just like every other countries in the world has a prevalence of crimes of all manners, and we all know that the international media has not even helped the Nigerian and African situation, with their focus on the negative aspects, but doing such a song is a massive dent on the already tainted image of this country.
---