NIGERIANS REACT TO LINDA IKEJI'S PREGNANCY
Written by MaxFM on May 21, 2018
Famous blogger, Linda Ikeji who is currently engaged, broke the news of her pregnancy on social media penned  down a post to confirm the report.
Linda Ikeji shared her story and how it all happened to the shock of Nigerians, who have taken to their social media to react to the big news.
Nigerians have been reacting to the news so far and while there are some good comments, there are other reactions which reveal that getting pregnant out of wedlock isn't what the celebrity blogger had been preaching to young girls.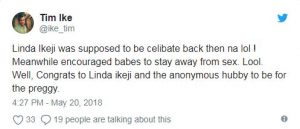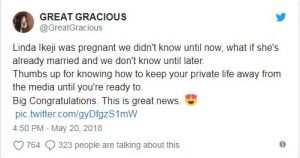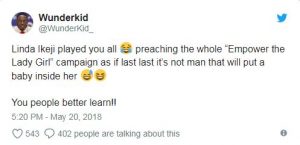 Linda Ikeji getting pregnant after telling y'all to remain celibate is like a girl that tweets "Men are trash" while getting dicked.

If you like, don't use your head pic.twitter.com/zQwUgjcnrg

— Elvis Tunde ⚓ (@Tunnyking) May 20, 2018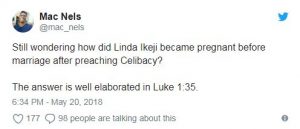 That's how I was celibate all this while because of Linda Ikeji.
JESU!!! pic.twitter.com/jbDtgZ4JGu

— Sally (@is_salsu) May 20, 2018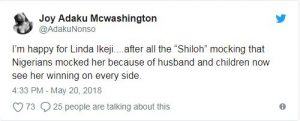 Interviewer: Linda how can you explain your condition to your single female fans?

Linda Ikeji: I'm surprised too oh, I just slept and woke up and… pic.twitter.com/UJMPh4JiYv

— Four-eyed Edo boy™ (@Alex_Houseof308) May 20, 2018
---