Nollywood actress, Angela Okorie, received a death threat on her son
Written by AaronWeb on September 3, 2019
Okay, so yesterday we posted a story in which Nollywood actress Sonia Ogiri addressed the ill-treatment that Mercy Johnson gives to other actors in the Nollywood industry, and Angela Okorie also shared her bitter experience with Mercy Johnson under the comment section of  Sonia Ogiri's post.
Well, yesterday, an Instagram user who is believed to be a fan of Mercy johnson sent a Direct Message to Angela Okorie instructing her to go and apologize to Mercy Johnson or face the tragedy of losing her son.
In response, the actress shared the message as a post on her page and fired back in prayer and declarations.
She wrote;
Only if you know how many alters 
I have raised for God 
Only if you know who my son is
Before he was conceived God knew him 
May death visit your full generation 
Any gathering that is not of the lord 
They shall scatter 
You evil spirit may you drink your own blood and eat your own flesh

Any coven that my name and my sons name has been mentioned 
Holy ghost fire destroy you all
In the sea 
In the air , in a native doctor's shrine 
Oku monso gbagbuogi 
Be destroyed and removed from the surface 
Of the earth ,
Since you wish my son death 
May your generation be closed
My sons is the future president of this country 
My son breathes with the life of christ 
He died when God died 
God himself gave him that life 
He shall not die 
He will continue to make me and the world proud Amen,
No peace for the wicked 
Any witch hovering around 
Blood sucking demon 
Die now in Jesus mighty name Amen
I am untouchable 
The lord lives in me , my son , my household 
Is covered with the blood of Jesus Amen .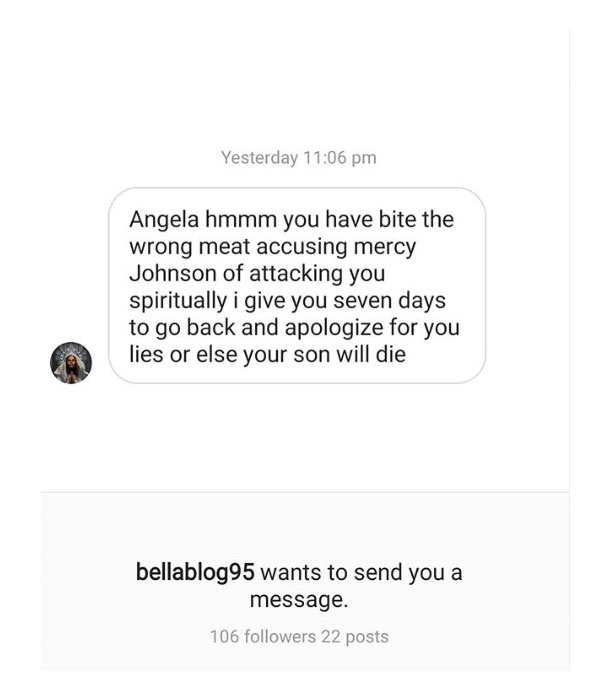 ---