Offset shares a video of Cardi B cleaning, jokingly calls her out for 'lying' in her WAP song (video)
Written by MAX FM on November 2, 2020
Offset shares a video of Cardi B cleaning, jokingly calls her out for 'lying' in her WAP song (video)
A video of Cardi B cleaning the house has surfaced online, thanks to her rapper husband who shared it online.
Rapper Offset has jokingly called out his wife, Cardi B as he shared a video of her cleaning.
Recall that in her WAP hit which features Megan Thee Stallion, Cardi B dropped the line "I don't cook, I don't clean."
She has however been caught doing that and her husband couldn't help but hilariously throw jabs at her. Offset was heard telling Cardi B "when are you gon' stop lying on your song", she however fired back by saying "I will punch you in the head".
Advertisement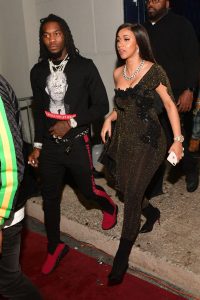 Watch the video below;
 Recall that , it was reported that Cardi B had filed for divorce from Offset. It however seems the two have reconciled and things are going just fine.
Advertisement

---