Oprah Winfrey On The Cover Page Of Instyle Magazine For March Edition
Written by MaxFM on January 26, 2018
Oprah Winfrey On The Cover Page Of Instyle Magazine For March Edition
64-year-old media mogul and philanthropist Oprah Winfrey is gracing the March 2018 cover of InStyle magazine – and it's not the Oprah you're used to.
InStyle is a monthly women's fashion magazine published in the US by Time Inc and founded in 1994. It is the ultimate style guide with the latest news on the red carpet and celebrity fashion, designer clothing, beauty tips and more.
On the cover, Oprah rocks a Gucci biker jacket with the words "Loved" written across the back. With her back towards the camera Oprah looks to the side with her eyes closed, a beautiful smile lighting up her face.
The highly symbolic cover was shot by Phil Poynter and styled by Karla Welch.
See picture below: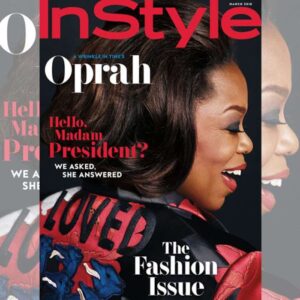 ---