P Diddy to offer H&M child model $1 million modelling contract
Written by MaxFM on January 10, 2018
P Diddy to offer H&M child model $1 million modelling contract
American Rapper, Sean Combs popularly known as Puff Diddy is reportedly preparing $1 million modelling contract offer for the dark boy who retail company H&M used to model a 'racism' inspired hoodie.
The European clothing line sparked a major controversy over the weekend when it ran an advertisement on its website featuring a black boy wearing a hoodie with the slogan 'Coolest monkey in the jungle'.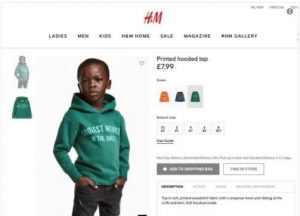 They were later forced to apologize, including removing the controversial garment from their collection.
Singer, The Weeknd also announced his disassociation with H&M after the clothing brand was forced to apologise for a racist advert. 'Woke up this morning shocked and embarrassed by this photo,' the singer wrote on Twitter. 'I'm deeply offended and will not be working with @hm anymore.'
According to the British newspaper Metro, Diddy will be offering the little boy in the picture a one-million dollar modeling contract to join him at his own clothing company, Sean John
---