Pogba 'regrets' Joining Manchester United – Paul Ince
Paul Pogba "regrets" returning to Manchester United as he argues with Jose Mourinho over his best position.
And that has left former Old Trafford star Paul Ince convinced the midfielder could leave this summer.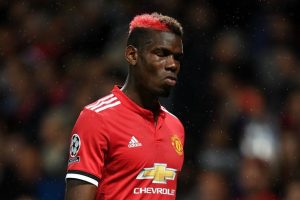 Pogba, the Reds' record £89million signing, is becoming increasingly disillusioned at playing as a deep-lying midfielder according to reports in France.
And Ince reckons the France midfielder may ultimately turn his back on United this summer if Mourinho refuses to play him in a more attacking midfield role.
"If what's being said about Pogba is true, that he regrets joining United, then I'd be disappointed, but not surprised," said Ince, as odds were slashed on the player going in the summer.
"I can understand why Pogba might feel irritated with the position Mourinho currently has him playing in.
"He likes to roam, he likes to attack. He wasn't signed to be a holding midfield player and that's clearly not what he enjoys or is best at. So why does he insist on playing him there?
"[January-signing forward] Alexis Sanchez wants to be on the ball and wants to be part of the action. You can't have both him and Pogba roaming across the pitch, because then you'll lose the shape of your team.
"The signals that are coming from Pogba is that he's not happy and if he doesn't feel like he fits in, then I could see him leaving in the summer.
"He's one of the best players in the world and deserves to be played in his right position where he can show that off and express himself."
Ince, who played for United from 1989 to 1995, claimed the arrival of Sanchez from Arsenal had a negative effect on Pogba, with the 24-year-old no longer United's key man.
"Since Sanchez joined the club, Pogba's confidence and mood seems to have gone in the opposite direction to earlier in the season," said Ince. "He looks like a totally different player.
"It's probably due to the fact, that pre-Sanchez, he was the main man. He was the kingpinand the one everyone was talking about.
"But the arrival of Sanchez has taken the shine off him. What I would say is, at United, you're all main men. You should all perform like that, too.
"Looking at the Newcastle game, you could see from his body language that he's fed up. Whatever it is, it's a problem that needs addressing."
Another former United skipper and midfielder, Roy Keane, said: "I think any top player in midfield should be able to play in a two or a three. So the guy just needs to do better himself and focus on what the game of football is all about."
---