Pogba Tastes First Premier League Defeat With Man Utd in Over a Year
Written by MaxFM on February 1, 2018
Pogba Tastes First Premier League Defeat With Man Utd in Over a Year
Paul Pogba was sent crashing back to earth with that rarest of occurrences: a defeat in the Premier League wearing the Manchester United shirt.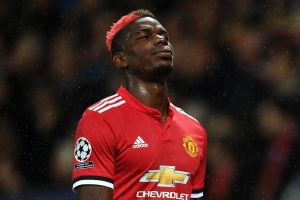 The France international was powerless to avoid a 2-0 reverse at the hands of Tottenham on Wednesday , with Phil Jones putting past his own keeper after Christian Eriksen opened the scoring just 11 seconds into the game.
Amazingly, it is the first time that Pogba has finished on the losing side of a Premier League game for over a year.
No less than 465 days had passed since United's last defeat with Pogba on the pitch, a 4-0 drubbing against Chelsea on October 23, 2016.
Since then the Red Devils had managed 23 wins and 13 draws with their midfielder in a total of 36 unbeaten matches.
The game also marked only the second time in 87 games that United have lost a match by more than a single goal.
---