"I Preach Love Through My Songs" – Djinee
Written by MaxFM on February 19, 2018
"I Preach Love Through My Songs" – Djinee
Nigeria R&B singer, Osayemwen Nosa Donald, better known by his stage name, Djinee is no doubt an exceptional talent that has done well for himself in the music industry, dropping hit songs – Ego (2006), I no dey shame (2007), Lade, Overkillin' (2011) and recently he released "Find You".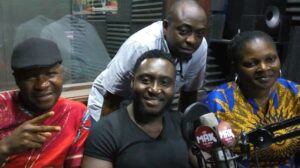 His pitch perfect vocal ability has rewarded him with accolades like "Best new artiste" at the Nigerian Music Awards in London,  4 Channel O awars, 3 Soundcity MVA and 2 Nigerian MVA nominations and other nominations.
In May 2008 at the Nigerian music awards he was presented with the Voice of the year award.
In a chat with the 'Wetin Dey' family on Max FM, Djinee the inspiration behind his stage name – Djinee and said; "During my University days, I was referred to as a person who changes situation, so I decided to bring in into music".
He also revealed that he had been working on his latest song, "Find You" since 2017 and is happy it was a successful project as visuals of the song is out already.
Djinee also said he passes the message of love through his songs.  He also revealed that he prefers natural women against surgery patients  when it comes to choice in women.
---