Quick Eriksen Goal Inspires Tottenham To Victory Over Man United
Written by MaxFM on February 1, 2018
Quick Eriksen Goal Inspires Tottenham To Victory Over Man United
Christian Eriksen scored just after 11 seconds as Tottenham ended Manchester United's unbeaten run in 2018 with a 2-0 victory at Wembley yesterday.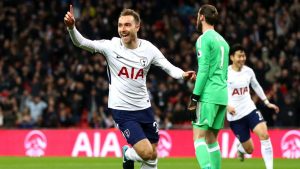 The Denmark star capitalized on poor defending straight from kick-off in the first half before a dreadful home goal from Phil Jones doubled Spurs' lead before the break to seal the deal.
The result ended United's eight-match unbeaten league run and sees them fall 15 points behind leaders Manchester City, who beat West Brom 3-0 at the Etihad Stadium.
Eriksen scored the fastest goal ever conceded by Manchester United in the Premier League when he pounced on his visitors' failure to clear a simple long ball.
Jose Mourinho's side, in which Alexis Sanchez was making his first league start since joining from Arsenal, had a bright spell thereafter but went two down before the break when Jones turned in Kieran Trippier's cross.
Indeed, it could have been much worse had fifth-placed spurs made the most of second-half openings and there is likely to be a lengthy inquest into the manner of United's defeat before Huddersfield Town's visit this weekend.
Watch highlights below…
Source: Youtube
---