Rihanna Attends Cousin's Funeral in Barbados
Written by MaxFM on January 12, 2018
Rihanna Attends Cousin's Funeral in Barbados
Rihanna has been pictured at the funeral of her slain cousin, Tavon Alleyne, 21, in Barbados this week as she mourned with her family.
The singer, 29, was surrounded by loved ones as she dabbed her tears during the emotional service, which laid to rest Alleyne, who was shot dead in the St Michael's area of the island on Boxing Day.
Wearing all white for the memorial, the singer watched from behind white-rimmed glasses as she joined mourners who cloaked his casket in a colourful collection of flowers. Rihanna was pictured wiping away tears during the sombre service, as many others around her looked visibly moved by the funeral.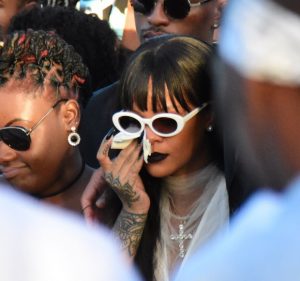 In another shot she's seen holding a program of the service – held at St George Paris Church, only a short distance from where the young man was killed – with a picture of Alleyne sporting a broad grin emblazoned on the cover, with an image of a beach in the background.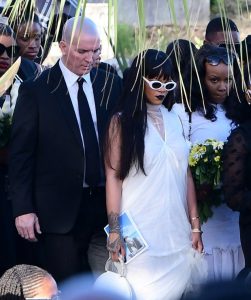 Flanked by what looked to be security guards, the singer laid a heart-shaped wreath on her cousin's grave, as others followed suit with their own floral arrangements to pay their respects.
Rihanna shared a glimpse of the service to her social media followers, as she told her cousin to 'sleep well buddy' in a post accompanying a shot of Alleyne's flower-adorned grave.
She said:
'Laid to rest, sleep well buddy. We are at peace knowing you are in a better place than we are. 'We will always have a void without you, but we will never stop loving you. Hope you were happy with your going away celebration today.'
Alleyne was gunned down while walking through the Saint Martin's neighborhood in Barbados, having celebrated the holidays with his family. Only the day before, on Boxing Day, he was joined by cousin Rihanna, as she posted photos of the two of them following news of his death only hours after.
---