Rumor Has It That Ariana Grande And Pete Davidson Are Engaged
Written by MaxFM on June 12, 2018
American singer and actress, Ariana Grande is reportedly engaged to her boyfriend Pete Davidson. The duo who announced the news of  their relationship via Instagram on the 30th of May 2018 reportedly informed friends of their engagement at Robert Pattinson's house party.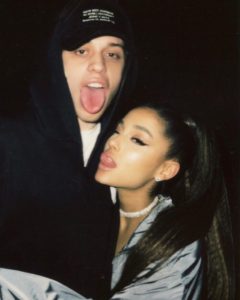 According to a source close to the couple,
"It's a recent engagement. They're just two people who found love quickly and make each other happy all the time.They both started talking about it this past weekend. It's nothing they've been hiding."
The singer has also been replying to fans tweeting her about a potential wedding to comedian Pete Davidson.
A fan tweeted:
"I hope he knows he is marrying us as well,"
Ariana replied.
"HAHAHAHAHAHH HES BEEN BRIEFED,"
Ariana took to twitter after news of their rumored engagement broke.
She wrote:
i love u sm hi & thank u i love u bye

— Ariana Grande (@ArianaGrande) June 12, 2018
Another fan tweeted calling her Mrs Davidson.
i always will love u more and that's the indisputable tea for today mrs.davidson

— keith (@rightheresus) June 12, 2018
Ariana replied:
crying

— Ariana Grande (@ArianaGrande) June 12, 2018
Ariana Grande also told her friend Camila Cabello, whoshe often refers to as her "wife" that they "need to talk".
See tweet below:
we need to talk @camila_cabello

— Ariana Grande (@ArianaGrande) June 12, 2018

Pete Davidson recently got two tattoos of Ariana – her initials and the bunny ears logo associated with her.
Ariana and SNL comedian Pete began dating earlier this year, although it's believed that they have known each other since 2016. The singer dated rapper Mac Miller and she recently described her former relationship with Mac Miller as "toxic" while Pete was in a relationship with Cazzie David.
---