Russian Bobsledder Voevoda Banned for Life from Olympics
Written by MaxFM on December 19, 2017
Russian Bobsledder Voevoda Banned for Life from Olympics
Russian bobsledder Alexey Voevoda has been given a life ban from the olympics for anti-doping violations at the Sochi Games where he won two gold medals, the International Olympic Committee (IOC) said on Monday.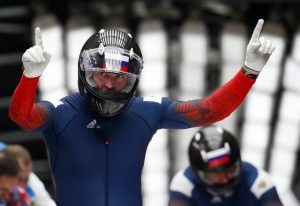 The decision comes two weeks after the IOC banned Russia from next year's Pyeongchang Winter Olympics for what it called "unprecedented systematic manipulation" of the anti-doping system.
The IOC, hoever left the door open for Russian athletes with a clean history of non-doping to be invited to compete in Pyeongchang as neutrals.
The 37-year-old Voevoda, who could not immediately be reached for comment, won gold in the two-man and four-man bobsled but the IOC said he and the Russian team had been disqualified from both.
The 43-year-old Zubkov, who had denied wrongdoing, is one of more than 20 Russian athletes who have since appealed to the Court of Arbitration for Sport (CAS)
---