See how Comedian Bovi stops a depressed fan from committing suicide
Written by MAX FM on September 16, 2019
Ace comedian Bovi reveals a DM on Instagram from a fan who decided against suicide after she watched his comedy videos on Youtube.
According to Bovi, he gets such messages from fans and he's glad cos that was his wish when he joined comedy; to make people laugh and also leave them happy. Insisting that happiness is a choice, the comedian also stated people shouldn't think that suicidal individuals are bluffing.
He wrote:
 I  get mails like this all the time. I remember vividly my prayer to God when I started stand-up comedy professionally; "dear God, I don't just want to make people laugh. I want to make them happy".
Mental health issues are real. Let's not think people are bluffing all the time. Even people who threaten to take their lives but don't also need help.
Lastly, happiness is a choice. Let's always remember that. "
See post below: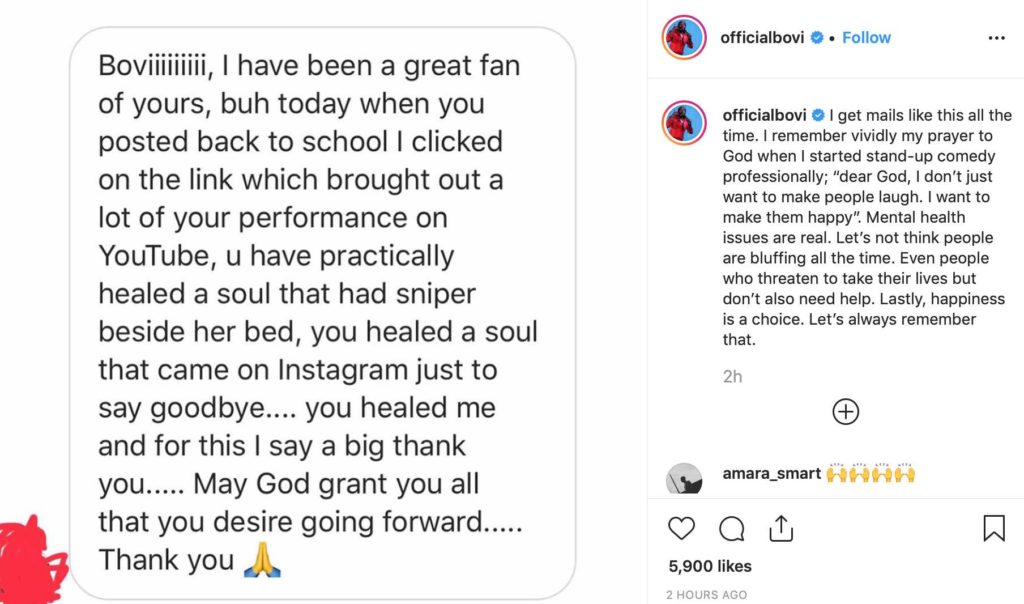 ---