Senegalese Religious Groups Accuse Rihanna Of Being 'Illuminati', Bans Her From Visiting On Charity
Written by MaxFM on February 2, 2018
Senegalese Religious Groups Accuse Rihanna Of Being 'Illuminati', Bans Her From Visiting On Charity
Pop star Rihanna has been banned by a group of thirty different religious organizations in Senegal from visiting that country.
The 29-year-old had been billed to visit Senegal with French president Emmanuel Macron as part of a charity that provides funding for girls' education. But the group known as 'No To Freemasonry And Homosexuality' is protesting her visit claiming that she's a member of the 'Illuminati'.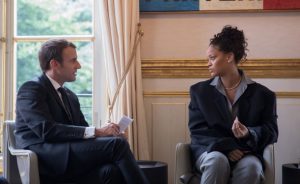 However, there has not been a reaction from the Senegalese and French governments, nor from Rihanna herself.
In June 2017, she had tweeted at the president, asking if he would commit to her education charity. The two of them met later in the year after which February 2 was chosen for the event.
Along with other musicians such as Beyonce, Jay Z, Britney Spears- Rihanna has been accused of being in an occultic group that many
music fans regard as the Illuminati, a claim she denies.
---