Shatta Bandle verified on Instagram
Written by AaronWeb on October 23, 2019
Ghanaian diminutive braggart, Shatta Bandle has been verified on Instagram.
Shatta Bandle became the most talked of in Ghana following his frequent bragging that he is richer than Dangote, Bill Gates and other prominent world billionaires.
After getting verified, he personally took to his IG to mock all those creating fake pages of him saying there is only one Shatta Bandle in the world.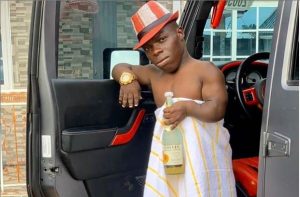 "Congratulations to my self 😁😁😁. I'm verified as a billionaire By Instagram, no more fake billionaire creating my fake profiles 😂😂😂 how can Instagram verify you if you have audio money🧐…#Yongrishnigaaaaaa😂😂" – Shatta Bandle wrote.
---