Transfer News: Chelsea Move for Everton's £15m Ross Barkley
Written by MaxFM on January 5, 2018
Transfer News: Chelsea Move for Everton's £15m Ross Barkley
Chelsea are confident they can secure a £15 milliom move for Everton midfielder Ross Barkley during the winter transer window.
The Blues hace returned for the 24-year-old after opoting to remain in Merseyside to continue his recovery from a serious hamstring injury, despite advanced talks on transfer deadline day in August.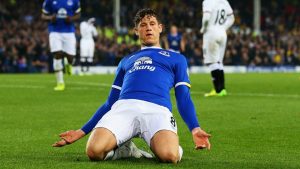 Barkley has only six months left on his contract, which could allow for a reduced price agreement between both clubs after Chelsea tabled double double the amount in the summer.
Tottenham are also interested in Barkley but look like outsiders to complete the deal at this stage witH chelsea making a strong approach, while Everton are resiged to losing their academic product, having been without him all season.
Barkley is close to making his return to the pitch and he could be lining up in Chelsea's blue. Manager Antonio Conte as revealed that Chelsea are aiming to add more players for their undersized squad because the club is still competing on all four fronts.
---