"U Still Be Mugu" – Seun Kuti Shades Yahoo Boys
Written by MaxFM on May 15, 2018
Popular Nigerian Afro-beat artiste and son of late African music genius (Fela Kuti), Seun Kuti has joined in the trending 'Yahoo' issue as he shared his thoughts in the condemnation of the act.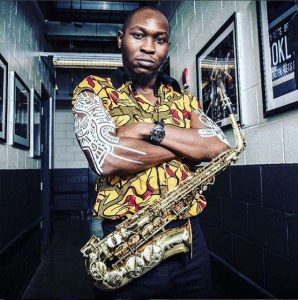 The 35-year-old musician took to his Facebook page and branded the 'Yahoo' boys as the main 'Mugus' until they utilise their money in developing communities, until then, they remain the real losers according to him.
Seun Kuti wrote;
"Wetin yahoo boy dey take money do? No be to buy expensive white man things? Lol. If they weren't busy buying White man drink but building their communities maybe just maybe, I will see dem but I don't. Steal white mans money and the only way u can express that wealth is too seek validation by consuming the most expensive white man things and u say u are a Gee? All Yahoo boys are Mugus for whitey still, dem be learner. Wait that 100k u used 3 months to set the job how long did it take Gucci to collect it back? MUGU. Until we can express our success outside of white validation thru their brands and luxury items of status and class, U STILL BE MUGU".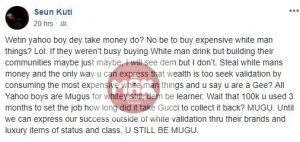 Recall that public opinions have remained divided over the arrest of internet fraudsters in Lagos State recently.
---