UCL: Juventus Send Tottenham Packing
A crazy three-minute spell saw Spurs knocked out of the Champions League as Juventus drew on a groundswell of history and belief to assert their dominance.
But for 12 minutes,l Tottenham Hotspur were better than Juventus across two legs in the Champions League last 16. That doesn't matter. They dominated the ball, had the perennial Italian champions on the back foot and it looked inevitable that they would knock them out. That doesn't matter.
In those crucial moments, a team like Juve have the resilience, the fortitude and the brilliance in their ranks to turn matches and ties on their heads and defy logic.
Gonzalo Higuain is a brilliant striker. He will go down in football folklore as a great fall guy because he missed some chances in big matches alongside Lionel Messi. But if it weren't for the Argentina captain and Cristiano Ronaldo though, then Higuain would be the standard most people would assume to be world class.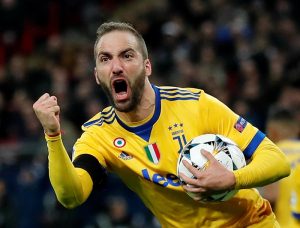 Two quick-fire goals in the opening nine minutes of the first leg gave Spurs just too much to do in order to claw back a win in Turin even if they dominated thereafter. That performance left a lot to be desired from a Juve perspective.
There were genuine fears among their supporters that the end of the line had come. The team appeared stale, old and out of ideas. The presence of Andrea Barzagli in the right-back position in his 37th year here in London was a reminder of the need to freshen things up and usher in a new era of success. He was run ragged by Son Heung-min for Tottenham and it was the Korean who deservedly gave the hosts a half-time lead at Wembley.
Then something happened. Across a period of just two minutes and 49 seconds, Tottenham's fate was decided and what preceded the comeback was a pair of substitutions. Max Allegri swapped things around with Stephan Lichtsteiner coming on at right-back and Kwadwo Asamoah giving Alex Sandro license to attack from higher up on the left. Spurs did not adjust in time.
Lichtsteiner's inch-perfect pass was nodded into the path of Higuain and he made no mistake. The striker was signed by Juve – not for Scudetto titles – but for nights like this. He is their big man, their difference-maker in Europe. He celebrated wildly in front of the visiting Italians as the roar went up. He urged his team-mates on, their seemingly insurmountable task now appearing distinctly possible.
When Mauricio Pochettino analyses the second goal he will see mistake after mistake. But from a Juventus perspective, what a goal it was! Higuain supplied the pass and their very own superstar-in-waiting came up with the goods. The key to winning this tie in the end was Paulo Dybala.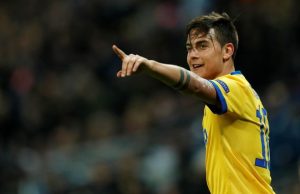 Watch highlights below…
---