Mohamed Salah produced a superb display that saw Liverpool edge out Italian opponent, AS Roma 5-2 as they have one leg in the finals of the Champions League and Klopp is confident they (Liverpool) will be going to Italy with a high spirit knowing fully well it's not going to be easy.
Liverpool coach, Jurgen Klopp is confident that his side can follow this victory up with another win in Italy next week.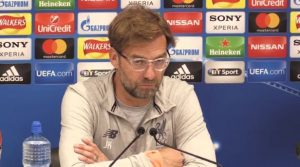 Speaking to a news source, Klopp said,
"What I learned is that we can win the second game as well even when it will be different, but Roma need to score goals against us
It should not sound like a warning or whatever but we are not Barcelona,
Barcelona is one of the two or three best teams in the world and they won so many things in the last few years and we didn't.
We will fight with all we have for that result again. It is so much better than I could have expected before the game but now in the moment I feel the two goals we conceded.
We have to work again in Rome – that is no problem. There would have been work for us to do if we had won 5-0 because Roma would have tried everything to strike back anyway so that is not a big difference."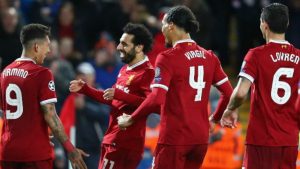 Klopp was impressed by his side's performance at Anfield – but surprised at Roma's 3-4-2-1 formation. They played a high defensive line, which the Reds frequently took advantage of.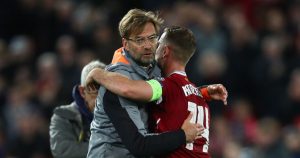 We thought they would play the other system," he said.
"It was not a system problem or whatever, we did really well. We prepared these passes in behind and we made these runs in behind – they are difficult to defend with our speed. So it was not easy, it was a lot of work.
I thought the boys played a brilliant game over a very long period and even the last few minutes when we conceded, Dejan Lovren played a world-class game and was outstandingly good."
Liverpool were breathtaking at times at Anfield, and led through two goals each from Mohamed Salah and Roberto Firmino, and another from Sadio Mane.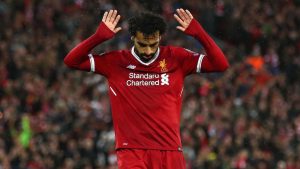 Edin Dzeko and Diego Perotti scored Roma's goals in the final nine minutes.
The Italian side came from 4-1 down after the first leg of their quarter-final with Barcelona to win 3-0 at the Stadio Olimpico and go through on away goals.
The second leg of the tie is next Wednesday, 2 May at 19:45 BST.
---