'We miss him a lot' – Pep Guardiola finally addresses Sergio Aguero's contract situation at Manchester City
Written by MAX FM on October 27, 2020
Manchester City manager, Pep Guardiola has come out to address star player, Sergio Aguero's contract situation at the club, with the Argentine striker set to become a free agent next summer.
According to Guardiola, the club "misses him a lot" when he's not fit to play but a contract renewal "depends on his physical condition"
Aguero,32,  has spent the last nine years of his career in Manchester scoring 255 goals in 373 appearances for City during that time.
He is the club's all-time record scorer but has suffered from injuries in the last two seasons.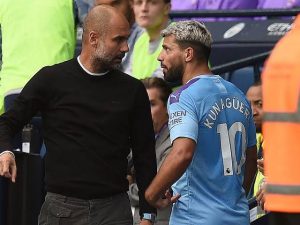 After four months out with a knee issue, he returned against Arsenal on October 17 and netted his 40th Champions League goal four days later in a 3-1 win over Porto.Guardiola confirmed that Aguero will spend four more weeks on the treatment table.
When asked if the club has opened talks with Aguero over a contract renewal, he expressed his frustration over the striker's ongoing fitness problems.
"I don't know, I don't want to talk about it because I am not involved with this," Guardiola told a pre-match press conference.
"If I should be involved in contracts, maybe the day should be 48 hours, not 24! What I want is for Sergio to be fit, what I want is Sergio [to] come back again, be ready as much as possible.
"We miss him a lot. What he has done for this club is outstanding, [he] will be a legend of this club, we want to enjoy him before but it depends on his physicality and his physical condition."
Guardiola's men have slipped to 13th in the Premier League standings after five fixtures, but do have a game in hand on current league leaders Everton.
---