"Wizkid has talent but he Is not hardworking like Davido" – Nigerian Man Says
Written by MAX FM on October 28, 2019
A Twitter user with the handle @uncleefezy has sparked controversies on the platform after he tweeted on how talented, lazy and reserved Wizkid is.
According to him, if Wizkid becomes very active and unreserved, he is likely to win a Grammy Award.
On Davido, he thinks he is very hardworking but not talented as Wizkid. He added that if Wizkid cultivates Davido's hardworking spirit, he will bless Nigerians with a Grammy Award.
This has sparked controversies on social media with some Nigerians sharing their brutal opinions on the man's tweet.
See tweet below:
"Wizkid has the talent, but too reserved Nd feels unbothered, if wizkid is as hard working as obo wizzy will bring us Grammy no doubt on that, obo is extremely hardworking Nd that has helped him a lot, just like the case of messi and Ronaldo (hard work matters) #wizkid #davido.", he tweeted.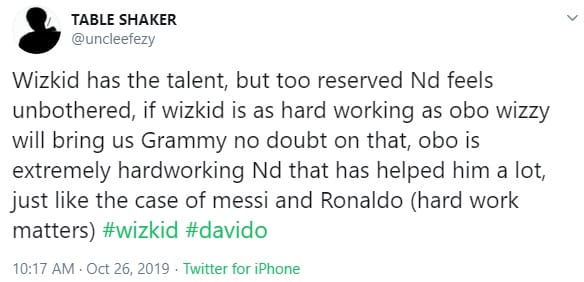 ---