'YOU ARE PROBLEMATIC IF YOU LAUGH AT OTHER PEOPLE'S MISFORTUNE'- JOHNNY DRILLE
Written by Max1023fm on October 21, 2021
Nigerian artiste, Johnny Drille said a word for people who laugh at the misfortune of others.
The Mavin record signee took to his social media recently to caution those who find pleasure in mocking people who are having a tedious time in their personal life.
He further stated that it is a destructive mindset to laugh at struggling people because it will eventually come back to haunt them.
He wrote, "If others' misfortune makes you happy and makes you feel better about yourself then you have a much bigger problem than you realize. It's a destructive mindset to keep, it'll destroy you eventually if you do not free yourself."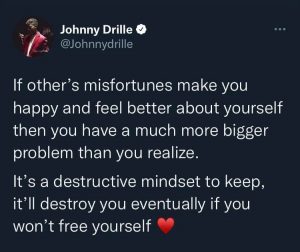 ---