YouTube celebrates Afrobeats, extends support to fast-rising Nigerian artists
Written by MAX FM on November 27, 2019
YouTube today announced that four fast-rising Nigerian artists have been selected to receive support on their individual music journey. YouTube will be providing the artists with the tools to propel their music, grow their presence on YouTube and accelerate the growth of their audience globally.
This was announced at an event tagged, A celebration of Afrobeats held in Lagos, Nigeria this evening. The four Nigerian artists are Kizz Daniel, Reekado Banks, Simi, and Teni. This follows a YouTube commitment to Nigerian Afrobeats talent that was made at the Google for Nigeria event in July; when the initiative to support 10 emerging Nigerian artists through Mr Eazi's emPawa program was announced.
These four selected artists will be engaged in a series of workshops and content creation sessions, experimenting with content formats on YouTube. They will develop their music and visual content, becoming experts at building deep connections with their fans. In addition, they will receive marketing promotion and education on best practices for growing and engaging their audience on an international scale.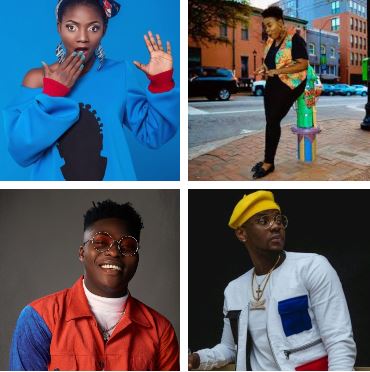 The artists will also serve as models for other African artists on utilizing the global power of the YouTube platform to expand and build a global audience. Learnings from their experience will be gathered as feedback to be shared with the entire artist community.
YouTube has played an essential role in the discovery and development of the African sound, exporting African music to listeners worldwide.
Speaking at the event, Addy Awofisayo, YouTube Content Partnership Manager for Sub-Saharan Africa, said: "We are very excited to partner with these amazing artists to support their journey as their music travels across borders and they expand their audience globally."
"YouTube has been mainline for African artists to connect all over the world, from Yemi Alade's Johnny hitting over 100 million views on YouTube or Davido's Fall at over 150 million views, there is no doubt that global audiences are dancing to an African beat," Awofisayo adds.
Teniola Apata also known as Teni the Entertainer, who attended the event said she was particularly excited because her fans will now get to see her beyond the music videos, to behind the scenes and live show content on YouTube. She said: "YouTube has no borders and it's exciting to see my music resonate with not just people in my home country, but fans across the world." 
Kizz Daniel also stated that he was excited about the opportunity to work closely with YouTube to expose his music and culture to a global audience. "YouTube is a crucial platform that allows my music to travel globally and connect to a new audience," he said
YouTube has not just played an essential role in the discovery and development of African sound but also in exporting African music to listeners worldwide. Through this partnership with the artists, YouTube is reinforcing its commitment to exporting Afrobeats music, culture, and dance beyond just the sound  to audiences across the world who may not have experienced it.
---