₦10k can no longer cook a pot of stew in Nigeria these days – Lady says
Written by maxfmeditor1 on April 6, 2022
A Nigerian lady has sparked reactions on social media after she said ₦10,000 can no longer cook a pot of stew from scratch in Nigeria.
Taking to Twitter to bemoan the increase in the price of foodstuff in the country, the lady identified as Ore, listed the food items used in making stew and the prices.
She tweeted,
Advertisement

"10k can't comfortably cook a pot of stew from the scratch these days. Crazy.
Remember I said from the scratch
Chicken 4k
Pepper and tomatoes 2k
Onions 500
1 litre of oil-2k
Spices(garlic/ginger/curry/etc)- 500
Gas? Transport to the market?
Tomato paste?"
This has gotten people talking online as they argue that it doesn't cost so much to prepare a pot of stew, and the lady was exaggerating.
Advertisement

Reacting to the comments, the lady disclosed that she is based in the Eastern part of Nigeria and foodstuff in the East is more expensive than in the West.
See post below;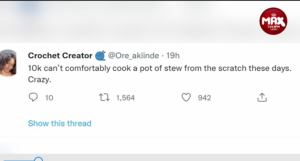 Advertisement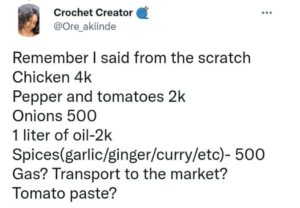 ---