BankyW Expresses disappointment in wizkid for missing his wedding
Written by maxfmeditor1 on April 21, 2022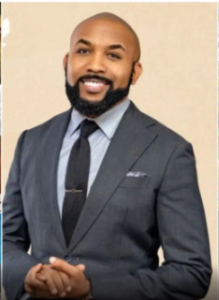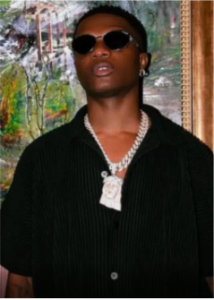 Award-winning singer, Banky Wellington aka Banky W has finally spoken out on his relationship with his former signee, Wizkid.
Advertisement

The singer and his wife, Adesua Etomi had a tell-all with highly sought after media personality, Ebuka Uchendu where they addressed lingering issues surrounding his relationship with the superstar.
Banky W admitted that he was very disappointed when Wizkid didn't turn up at his wedding.
He, however, stated that he understood that the singer had a concert that he couldn't abandon.
Advertisement

"I was disappointed he wasn't at my wedding but I knew he was in Dubai for the One Africa Show".
Banky W also addressed Wizkid's cutting ties with his record label, EME.
The father of one aspiring politician claimed that the singer didn't keep to his part of the agreement as he owed his label 3 albums.
Advertisement

According to him, when Wizkid was signed in, he promised to produce 5 albums but he only did 2 and left.
Banky W stated that he couldn't hold Wizkid back as he saw the desire and determination in him to leave and he didn't want to create animosity and resentment by forcing him to remain in the label.
He said, "I think he was supposed to do 5 albums but he had done 2 solo albums.
Advertisement

I think he wanted to leave and for him, that was enough.
I didn't want anyone to stay when they want to leave cause that would create animosity and resentment".
He added, "No I didn't try to talk him out because I could tell mentally that he was ready to do other things and for me, I always felt some things are meant to happen for a season and that was the season we were meant to be".
Advertisement

Wizkid had expressed his regret for missing his former boss, Banky W's wedding.
The Starboy commented under Banky's wedding photos that he was hurt knowing he couldn't attend his big day.
"Missing this is hurting my soul."
Advertisement

He also shared a photo of the singer on his Instagram page, and wrote;
"My big brother and boss for life! Love u bro see u in cape town! God bless your day! Lorecial day We go rock church wedding ..Love forever!."
See post below;
Advertisement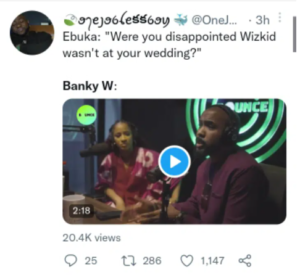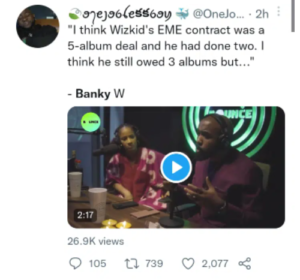 ---