AFRICAN GIANT BURNA BOY THREATENS TO SHAVE HIS HAIR IF CRITICS DON'T TAKE CAUTION
Written by Max1023fm on October 25, 2021
Nigerian African Giant Burna Boy shared his response to those people who were in disapproval of him shaving his beards.
Burna Boy revealed that he doesn't want people loving him for superficial things like money or his trademark beards or dreadlocks.
The Odogwu's trademark look has always been a full lock of hair along with his full beards. This is what he is easily recognized with. However, he did not cut off his dreadlocks, he still looks quite different without the facial hair and beards on him.
Sharing his response to a critic who lamented over his shaved beards via his Insta story, Burna Boy threatened to cut off his dreads. He wrote,
"I Love you all too! But don't make me cut the hair on my head as well. If you love me for my hair? Or my Beard or some sh*t I bought with Money. Then that's great but anybody can grow hair and buy shit. Don't build your Life on Conditional Love."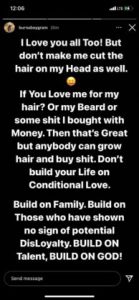 Build on family. Build on those who have shown no sign of potential disloyalty. Build on talent, BUILD ON GOD!
---