Black Women Are Dominating The 'Crate Challenge
Written by Max1023fm on August 23, 2021
The 'Crate Challenge' isn't for amateurs! All week people all over the U.S. have been attempting to walk across crates to win money. It takes some extreme balance and patience to be able to walk across the crates successfully. While many men have tried, women are killing the challenge with grace!
A woman named Keri from Houston took the game up another notch and shocked many with her choice of footwear.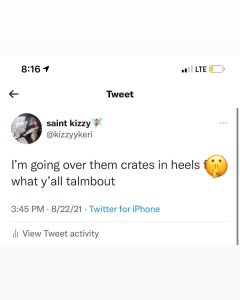 The twenty-five-year-old shared a tweet from last week stating she would be doing the challenge in heels, and she did just that. Keri walked across the crated with clear heels that strapped across her ankles. The Howard University graduate took her time and concentrated, and in less than a minute, she carefully walked up the crates. Although several people were talking in the background, trying to distract her, one of the women spectators had her back and commanded the crowd to "shh" and "be quiet." The extra support worked because Keri was victorious in the end and made it across the crates.
---