Burna Boy's 'YE' has gone certified gold
Written by Max1023fm on September 18, 2021
Burna Boy's 2018 hit song Ye has been awarded a Gold Certification in the United Kingdom (UK) by the BRITs Award organizers. The BRITs announced Ye's gold status via a post on one of their pages on recently.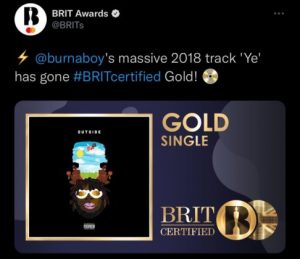 Ye was released as part of Burna Boy's 2018 album, Outside which signalled his first swoop into international light. Ye moved really big and attracted the attention of the world's best. It was not long before he got a Grammy nomination for his next album, African Giant before securing Diddy as lead producer on his 2020 Grammy award-winning album, Twice as Tall.
Two songs were certified gold in the UK by the BRIT's this week, and they were Ye by Burna Boy, and Anybody by Justin Bieber. Other artists that got silver certifications this week in the UK are Lil Nas X, Harry Styles, Taylor Swift, Doja Cat, Nicki Minaj, Drake, Megan Thee Stallion, Ty Dolla Sign, and Jack Harlow.
---