Cee-c Gets Acid Threat From Alex And Tobi's Fan; Leo, Ifuennada, Princess React
Written by MaxFM on August 8, 2018
Looks like fans have not gotten over the 2018 season of the Big Brother Naija Reality TV Show. On August 6 2018, ex BBNaija housemate, Cee-c received an acid threat from a concerned fan of Tobi and Alex, named Greg Conway. He alleged that Cee-C pays people to troll on Alex over her relationship with Tobi and concluded with a threat to leave Cee-c with a scar she would never forget.
In an interview with a news outlet yesterday, Cee-c was reported to have said her reason for putting out the acid threat is to make people who aspire to participate in any reality TV show to be aware that asides the freebies and recognition you would get when you participate in such shows, there is also the ugly side of it where people would talk down at you and even threaten you.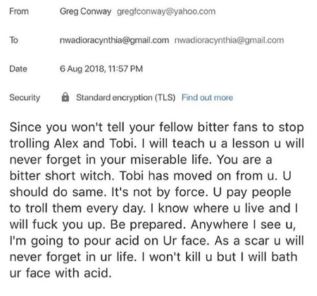 Fellow housemate, Ifu Ennada has now weighed in, calling for peace between the two ex housemates. According to her, they don't have to be best friends but they should at least respect each other and call their fans to order.
In a now deleted post, she shared a collage of Alex and Cee-c, and wrote:
"It's unfortunate we've gotten to this point where people get acid bath threats. Sometime in Port Harcourt, about 2 months ago, a CeeC fan verbally and physically attacked Alex. It was so bad that Alex was going to damn the public eyes watching and retaliate, but for intervention from Rico, myself and Naomi – Alex's manager who stopped her. I spoke with CeeC to speak out to her fans but she didn't. I also spoke to her about the possibility of making peace with Alex. Alex had told me how CeeC ignored her greeting with Rico being a witness, I asked CeeC about this, but she dismissed it. A lot of times, Big Brother fans have written me, asking me to make peace between these ladies. I hope you all see how I tried to intervene in the past.

NO DRAMA IS WORTH THE UGLINESS THAT COULD ERUPT FROM THIS ENDLESS FAN WARS.

We all don't have to be friends, but we should all have respect for each other. Respect to call our fans to order; one that sees us value each other's lives over drama and trending on Instagram in the name of bullshit. Countless times Alex and Tobi have gotten death threats from CeeC fans. They all up in their DM. While they choose to ignore these, it's not OK.

During Swanky Jerry's party at the club, some people who identified themselves as CeeC's fans confronted Alex physically, spat on the floor several times and told her they don't like her. She called me and spoke about this experience, but I asked her to stay calm.

THIS IS UNACCEPTABLE!

I know CeeC might experience some measure of attack from crazy fans, this acid bath threat being the recent. All these can be curbed if there's peace. Alex and CeeC please make up already! Let the public know you're cool. Discourage your fans from this war that is gradually brewing. United, we can make exploits! The other day in our group I wrote about the business possibility we could explore together and the greatness that could be ours. Let us remember our Big Brother days when we worked as a group and won our Thursday tasks. We have what it takes to collectively be the most successful Big Brother Housemates ever! Love is the key."
Well, Cee-c's 'fresh air', alleged love interest and fellow housemate, Leo has spoken on the issue and he had this to say to the troll:
"You're threatening child of grace in Lagos where one of her allies is a true Lagosian."
It didn't however end there. Fellow housemate, Princess has also reacted to the acid threat, saying it should be reported to law enforcement agencies and not published on social media. She said:
"Get over this bad blood already !!!! First of all if this is an actual threat and not a publicity stunt it should be sent to the law enforcement agencies and not social media. 
Because publicizing such threat in such an aloof manner would only fuel more imaginations of how best to carry out the plot. The fans of both parties are taking this way too seriously. 
Bbn 3 is a "term"that covers 20 housemates. 
And this constant aggression only keeps us in constant negativity and defense. 
@alex_unusual@ceec_official pls advice your fans. 
Better still make peace if there is any squabble. Before this gets out of control and unleashes more contempt. #loveisallweneed#peace#lovehastowin"
---