Celebrities and Nigerians React to Actress Ada Ameh's Sudden Death on Her Last Post
Written by maxfmeditor2 on July 18, 2022
Nigerians have reacted to the death of popular Nollywood actress Ada Ameh.
Her Manager who traveled to Warri after the rumoured death, confirms this to the Official Johnson's family who later posted on their Instagram handle today Monday 18th July 2022. Informing her fans and Nigerians about her death, the officialthejohsonsfamily wrote on their Instagram post:


officialthejohnsonsfamily wrote:
"It has taken a while to authenticate this sad news before going public under advisement from Ada's manager who was on his way to Warri to secure physical confirmation of the horrible news that hit us all this morning. He has just called in from Warri and sadly he has confirmed our worst fears… Our beloved Emuakpor Johnson is no more!

It is with deep sense of loss, total submission to the will of God, that Native Media Tv, cast and crew of @theofficialthejohnsons painfully announce the passing of our dear sister, friend, colleague and Matriarch of The Johnsons clan Ada Obande Ameh (aka Emuakpor Johnson).

To all our teeming fans around the world, we have truly lost a rare and vibrant gem, but celebrate the life of an icon who daily put smiles on every face and spread love in every home. Together, we join our voices with yours to offer prayers on behalf of the family. May God grant them the fortitude to bear this irreplaceable loss. ADA, You will be missed but your memory will live on in our hearts forever. We love you"
https://www.instagram.com/p/CgKYO3vMN8D/
Nigerians has refused to believe what they initially termed as rumour especially after viewing her less than 24 hours post on her social media handle Instagram. In her post, she was expressing the joy she feels on how a friend of hers was taking good care of her. Her words:
"Happy new week fams ❤️❤️
This trip for my friends elder sister, is just an enjoyment gallow!!!
Thanks my darling sister phil❤️❤️
I really enjoyed myself!!
God bless my love ❤️❤️
May dreams come true in Jesus Christ name 🙏 🙏 🙏"
Ada Ameh is seen enjoying a sumptuous Delta State Owo Sopu and Starch, a meal prepared by her friend's elder sister as explained in her post above.
https://www.instagram.com/p/CgHQ0dcoCIW/
How Celebrities and Nigerians Reactions Over Her Death
The death of Ada  Ameh has been trending on social media from the early hours of Monday 18th July 2022. Her colleagues, fans and the whole of the country is still in shock and has been reacting on Instagram, Twitter and other social media platforms on the sadness they feel over the news that was made.
Actress Rita Dominic wrote:
We lost a super talent..
This is so sad..
Gone from our sight but not from our hearts..
You will be surely missed..
Adieu dear Ada till we meet to part no more.. 🤍🕊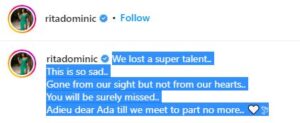 Gospel musician Sammie Okposu wrote:
May Adah Ameh's soul rest in peace @charlesinojie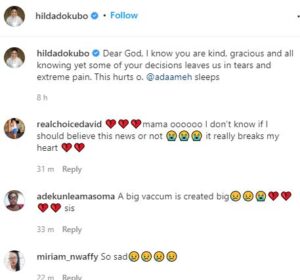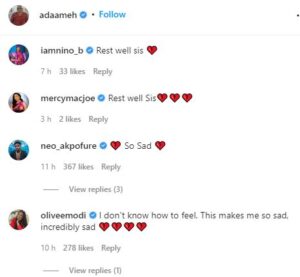 Oh my world. This is so sad. I can't comprehend. Rest Well my darling big sis. This is too hard to understand but that's how life is.

Nigerians
"ustar116💔💔. Thank You for making us laugh and happy Ma'am. May Heaven keep you in eternal laughter and happiness ❤️❤️
I didn't want to believe it all day because I haven't heard from this page … but now dear Lord😢😢😢😢. May her soul Rest In Peace. You'll be greatly missed 💔💔
Na wa ooooo😭😭😭 Eweleke😩😩😩😩😩😩😩😩😩😩, who will replace your role, getting home to tell my daughter, she shouted😭😭😭😭😭
This is so painful…… May her soul rest in peace 🙏🏻😢😢😢😢😢
Chai l was waiting for you people to be sure. E pain me 😭😭😭😭😭😭😭😭😭😭😭😭😭😭
May her soul rest in perfect peace 😭😭😭 this is too much to bear fr😭😭💔💔"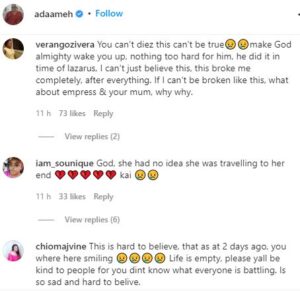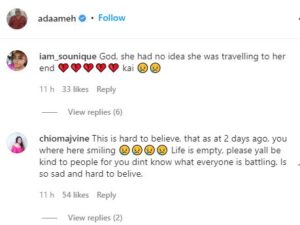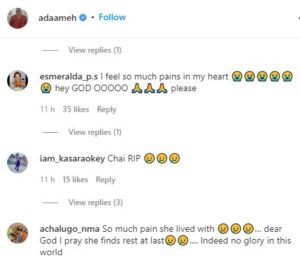 Mental Health Struggle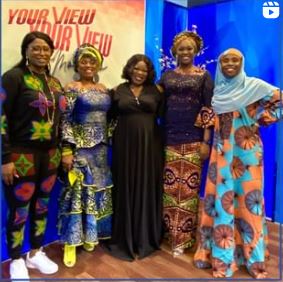 In an interview organized by TVC exactly two weeks ago, Ada Ameh revealed  to the ladies of the popular show YourView  on how her mental heath has been unstable for a while. She explained the pains she had gone through losing eight family members, 3 of her sisters who had 3 kids each before their death. 3 of her brothers, her father and two years ago her child..
She said how worse she became when she lost her only child. In her words, her world crumbled right before her. She continued that after the death of her sister, she felt her was next and the death of her only child was a big blow to her. She narrated how close she was to her daughter given that she was only a teenager 14 as at then when she had her so their closeness was not just ordinary but was also deep.
.
Although there is currently no official confirmation on cause of her death. Nigerians both home and in diaspora are still in shock at the sudden demise of our very own Adah Ameh. Adah Ameh is loved by all for the roles she played. She brings joy to many as revealed by them on her passing away
May her family and friends be comforted at this trying time…
Click link to watch full video of her interview here:
Read More:
https://www.max1023.fm/how-ada-ameh-lived-a-good-memorable-life-wale-powpowpow-see-video/
---