Countdown To 'MaxLaugh' Grand Finale
Written by Max1023fm on October 28, 2021
On the search for the next big comic star, Max1023FM decided to give up and coming comedians the opportunity to showcase their talent.
It has been a smooth ride so far…
Interested comedians were asked to create a 1-min video of themselves telling a funny joke, upload it on their page using the hashtag #MaxLaughs and @max1023fm.
With the above guide, contestants with the highest likes and comments were qualified for the maxlaughs competition on the Wetin Dey show.
There were almost 40 entries but sadly only 20 could be selected based on likes.
Below are the top 20 Contestants                                                                                                                                                                                                                                                                                                               
Rev Fadamazzi
Comedian Slim Saint
D Warri Guy
Haykay
Mc Shibambo
John Hery
Oderinlo Ayodeji
Tobioscar
Aemaka
Dspark9ja
Dadslox
Woli Elenu
Wokikekere Princeay
Loud Og
Honesty Omah Igala
Comedian Dedani
Ola the Finest
Mc Valoz
Rafydam
Sir Jones Mc
From Audition to the 1st stage, to Semi-final and now the Grand Finale.
Ladies and gentlemen, it's just one day to go for the #maxlaughs grand finale! 💃🏿🕺
Join our Instagram live on Friday, October 29th to catch up with the fun!
Here are the Top 3 
Omah igala
Rev Fadamazzi
Sir Jones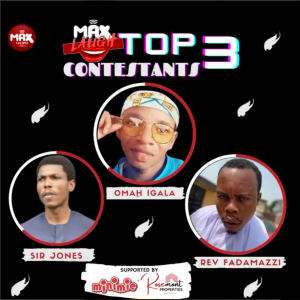 Countdown To MaxLaugh Grand Finale
Who will take home the amazing prize? Well, we will find out tomorrow… Stay glued.
---