Court Frees Small Doctor With A Strict Warning To Avoid Violence Within The Next One Year
Written by MaxFM on December 5, 2018
Nigerian pop star, Small Doctor has been released from police custody following his arraignment for unlawful possession of firearms and threatening violence against an officer.
The "Penalty" crooner was arraigned earlier on Tuesday at the Ebute Metta Magistrate court along with the other occupants in his car.
According to a Police source,
"Small Doctor was released by the court and allowed to go on condition he must not engage in any act of violence or commit any offense within the next one year. If he does, the court would not spare him".
Small Doctor's release comes just in time for him to headline his first major concert in Agege on December 9th.
Taking to his twitter handle,
"Small" as he is fondly called thanked all that stood by him in this trying time, and promised his 1st ever show slated for Sunday, 9th of December is going to hold.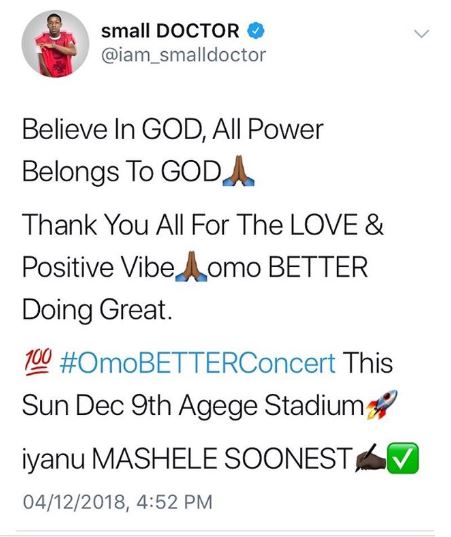 ---