Didier Drogba dances with Ivorians as they show gratitude for the school he built for their community
Written by MaxFM on January 24, 2018
Didier Drogba dances with Ivorians as they show gratitude for the school he built for their community
Ivorian football legend, Didier Drogba gave back to his country a few days ago by opening a school that will help no fewer than 350 children in the rural cocoa growing community of Pokou-Kouamekro to gain quality education.
Speaking at the launch, Drogba said the foundation began working on the project two years ago.
I am very proud to see it completed . The belief of my foundation has always been if we give children access to health and education, we will build future generations of doctors, scientists, businessmen and women and that is how we build a better Africa".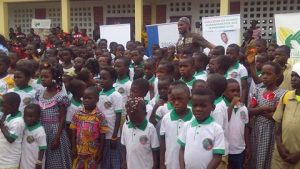 The former Chelsea player also took to Instagram to shares photos of the opening and wrote;
To be born somewhere, travel everywhere and come back to give back to my community and give them opportunity to dream bigger by giving them access to better education. #manof the world.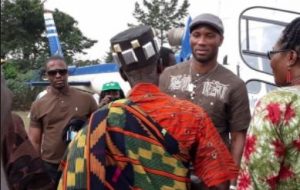 In appreciation of the kind gesture, hundreds of commuter gathered round Drogba to sing and praise him for his good deeds. One particular elderly women laid down her wrapper and asked him to step on it. Known for his dancing skills, Drogba joined in the celebration.
Watch the video below…

---