Don Jazzy, Other Celebrities Congratulates Asake As He buys himself A New Mansion
Written by maxfmeditor2 on August 18, 2022
Asake otherwise known as MR MONEY is an Afropop and Afrobeat musician from Nigeria. Born as Ahmed Ololade, in the late 1990s and brought up by Yoruba parents in Lagos, Nigeria. Asake is a singer and songwriter.
Earlier today, He posted a huge mansion he just acquired and immediately congratulations began pouring from timbers and calibers. Celebrities and non celebrities alike congratulated him over his new achievements. See Below:
Advertisement

"ASAKE

Advertisement

@asakemusik

Went from hustling for free bedspace to investing in real estate 🏡"

Advertisement
Don Jazzy was not left out as he gave Asake a double congratulations. According to him, Asake has acquired not just one but 2 mansions including his number spot on Apple. See his statement:
"donjazzy

Advertisement

Verified

Osheee congratulations bro. You don be double landlord now. This one, and the No 1 spot on Apple 100. 🙌🏽🙌🏽"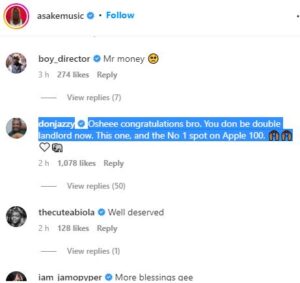 Advertisement

Other congratulatory messages from fans and well wishes:
"𝔸𝕟𝕥𝕙𝕠𝕟𝕪 ℕ𝕠𝕥 𝕁𝕠𝕤𝕙𝕦𝕒👽☄️

Advertisement

@anthonystilldey

Replying to

@asakemusik

Advertisement

Congrats to you, congrats to me in advance and congrats to everyone who is yet to achieve these in advance".

"Daniel Regha

@DanielRegha

Advertisement

Replying to

@asakemusik

Asake ur growth is significant for all to see, u have come a long way but keep ur wins ¤ff social media. U don't need the public validation; The less u reveal, the lesser the prying eyes. Having said that, up ur pen game & push ur limits, otherwise u w!lln't evolve as an artiste."

Advertisement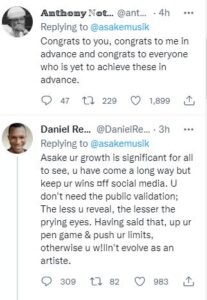 Asake became popular early this year when he released his first EP titled Ololade Asake. The song 'Omo-Ope' went viral and he bagged the No 1 spot on Apple 100.
Advertisement

Since the beginning of this year, Asake has been a household name in Nigeria and even the world. He has had lots of collaborations with other big music celebrities. Asake in his latest remix of his song titled 'Asake' featured Burna Boy.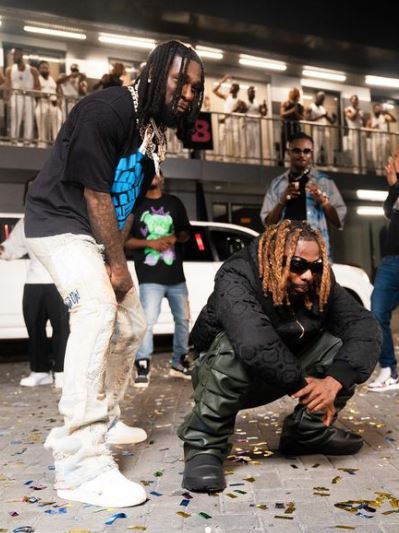 Congratulations from us to Asake is in order.
Advertisement

---