Don Jazzy Reunites With Ex-Wife Of 19 years
Written by maxfmeditor1 on May 13, 2022
Music producer, Don Jazzy reunites with his ex-wife after 19 years
Don Jazzy took some time sharing some pictures from his wedding,
He wrote on social media,
"For so long, everyone kept asking me when am I getting married?
Well, the truth is that almost 18 years ago,
I was 20 and I got married to my best friend, Michelle (@yarnstaswitch), and it was beautiful.
I loved love and I loved marriage. Michelle is so beautiful inside and outside with such a soft heart.
But then, me being so young and full of dreams,
…I spoilt it because I was giving all my time to my music.
Music became my priority, instead of my family.
We got divorced when I was 22 and it hurt.
I am still very much in love with my music
and I would not want to marry another (person) and mess it up again.
So, I'm taking my time.
Why am I just saying this now I really like to keep my relationships private, actually. Past or present.
But I was watching the Bounce interview with Ebuka which is almost like a tell-all interview,
…and I felt bad skipping this huge part of my life. So yes, you all should not be annoyed."
Watch a video from one of their fun times together in Lagos here: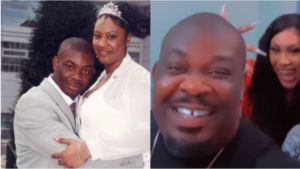 Meanwhile, when Michelle Jackson arrived in Lagos some days ago, she had an unpleasant encounter with the police.
Narrating the scary encounter on Instagram,
Michelle disclosed that she and her friend had to dock their heads to avoid being hit by a stray bullet from the Police gunshot while being stuck in traffic gridlock.
"First night out in Lagos. My bestie and I decided to go chop some food and bar hop last night…..
BUT what i experienced on the road shook me….. my friends tell me its the norm….. ehn!!!
"I knew this trip was going to touch me in many ways….. it certainly did.
---