Due To The Ongoing Feud Between Tyrese Gibson And Dwayne Johnson "The Rock", Tyrese Forewarns To Quit Fast And Furious Franchise.
Written by MaxFM on November 2, 2017
On Wednesday, Tyrese took to Instagram and gave a final warning to his fellow actor Dwayne Johnson. While doing that he told his " loyal fans and loved ones from OUR Fast universe" that he won't appear in Fast 9 if Johnson is involved.
"I'm sorry to announce that if [Dwayne] is in Fast 9, there will no more Roman [Pearce]. You mess with family and my daughters survival I mess with yours," Gibson captioned a selfie of him, Johnson, and Vin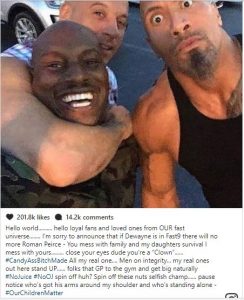 ---