Florenzo Perez says Cristiano Ronaldo is Di Stefano's Heir
Written by MaxFM on December 8, 2017
Real Madrid President, Florentino Perez has said that Cristiano Ronaldo is the club's heir to the legendary Alfredo Di Stefano.
Alfredo Di Stefano is regarded as one of Real Madrid and football's all time greats, starring for the Blancos betweeen 1953 and 1964.
After picking up his 5th Ballon D'or on thursday, Perez believes Cristiano Ronaldo can be mentioned right alongside the Argentine legend.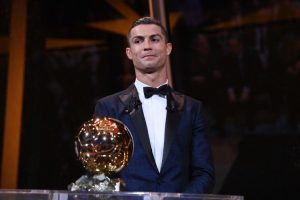 Perez told L'Equipe TV following the ceremony;
"For Real Madridand all the Madridistas in the world, this fifth Ballon D'or is an honour and a recognition for the best player in the world. I think Cristiano Ronaldo has all the Real Madrid values: effort, respect and teamwork.
For Me, he is the heir to Alfredo Di Stefano."
The 32-year-old netted 25 times in La Liga last season and added 12 goals in the Champions League, including a brace in the final match against Juventus.
---