GABRIELLE UNION RECALLS THE TRAUMA OF HUSBAND DWAYNE WADE HAVING A BABY WITH ANOTHER WOMAN
Written by Max1023fm on September 16, 2021
American actress Gabrielle Union has spoken up on what she went through after finding out that her husband Dwyane Wade had a baby with another woman, while she was going through IVF treatments to try to conceive.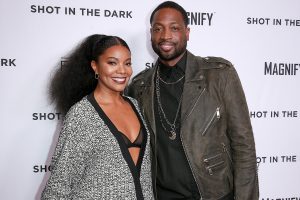 She disclosed this for the first time recalling the life-changing moment and the aftermath that ensued in her memoir, 'You Got Anything Stronger', where she wrote about her infertility struggles.
She wrote, "The experience of Dwayne having a baby so easily, while I was unable to, left my soul not just broken into pieces but shattered into fine dust scattering in the wind.
To say I was devastated is to pick a word on a low shelf for convenience. There are people, strangers that I will never meet, who have been upset that I have not previously talked about that trauma. I have not had words, and even after untold amounts of therapy I am not sure I have them now, but truth matters."
In a 2020 documentary, DwyaneWade explained that he and Union were on a break when he conceived, Xavier, who is now seven years old with his longtime friend Aja Metoyer. He also spoke about how hard it was to tell Gabrielle about the unborn child.
The couple began dating in 2008, which at the time, Dwayne had two children, Zaire 19 and Zaya 14 and he was the legal guardian of his nephew, Dehveon 20. They however got married in 2014 and welcomed daughter Kaavia four years later through a surrogate, an experience that led Wade to retire from basketball in 2019.
---