Gospel Singer Mercy Chinwo's Wedding Outfits Sparks Conversations On Social Media
Written by maxfmeditor2 on August 16, 2022
Conversations of all sorts has evolved since the wedding ceremony of gospel singer Mercy Chinwo on Saturday 13th August 2022.
Mercy Chinwo who shocked fans and the internet with her engagement to Pastor Blessed Uzochikwa, the pastor of The Waterbrook Church has finally tied the knot. This comes shortly after the newly weds celebrated their traditional marriage rights in Port Harcourt Rivers State, Nigeria.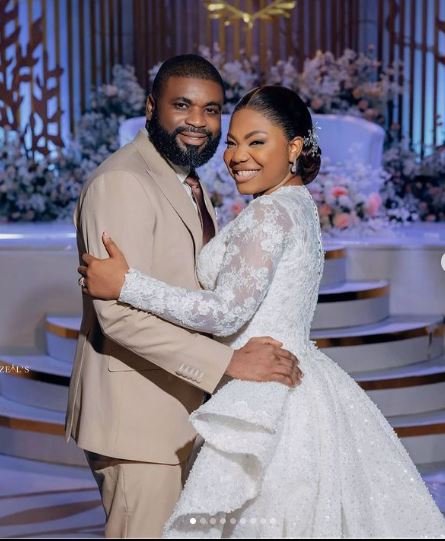 Fans and the internet exploded when a twitter user tweeted using her pictures to counsel ladies on how to attract a good husband. Citing Mercy Chinwo as a case study, the twitter user who is a photographer told ladies who expose their bodies to stop doing so.
According to him, you can still be covered and marry a very good and decent man just like Mercy Chinwoa. In his words:
 "Son Of Idiogbe

@6ixmangram

Dear Ladies you can be properly dressed, fully covered and still capture the best Husband.

Decency pays 👌 #90DayFiance  #BreakingNews Mercy Chinwo | Davido"
Mr Poster was not left alone, other twitter users and ladies came after him immediately and surprisingly, he was prepared for them all.
Goddaughter@Jannyie1 a twitter user responded to him, that she would have been married a long time ago if his state was true. Her words:
"Goddaughter

@Jannyie1

Aug 15

Replying to

@6ixmangram

Omo I disagree with u on this matter, if na like that I for don marry since😁"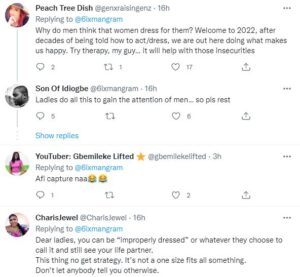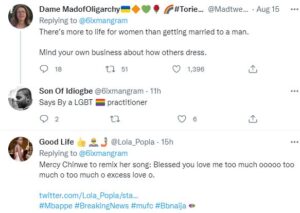 @ Ada Nri 🎀🌺@AdaNri1L pounced on him, saying his assumptions are false and there are a lot of decent girls who are  still single and happy.  According to her, marriage is not an achievement and there's nothing wrong in being a single. See her words below:
"Ada Nri 🎀🌺

@AdaNri1L

Aug 15

Replying to

@6ixmangram

Who gave you the yardstick of measuring "best husbands"? Are you in their lives? Stop with this misogyny. Marriage is not an achievement. So many decent girls are unmarried and there's nothing wrong with that."
Ell @SmokedEll stated that his boss who is almost 40years is very much decent, happy and single. So getting the best husband is does not have anything to do with being happy. According tohim:
"Replying to

@AdaNri1L

 and

@6ixmangram

True true true. My boss is 40yo this year, she's the country head of operation in my company. She's handling several business units & enjoying life. Got her own house and car, take care of her family, happily single & very "decent" 🤣 so what for not having "best husband" lol"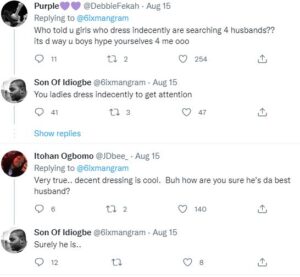 Purple💜💜@DebbieFekah asked the poster why he was so proud to think that girls dress indecently because of me. She said:
"Replying to

@6ixmangram

Who told u girls who dress indecently are searching 4 husbands??

its d way u boys hype yourselves 4 me ooo"
Son Of Idiogbe @6ixmangram did not let her response go unanswered. He stressed the  fact that the reasons ladies dresses indecently is to get the attention of the male folks. In his own words, he said:
"You ladies dress indecently to get attention"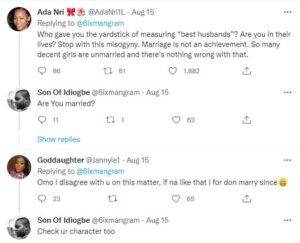 What do you think about the boiling conversations? Do you think dressing decently will attract a good husband. Let us know in the comment section.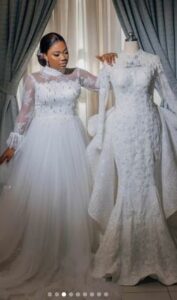 ---