Linda Ikeji Ignores Trolls, Reveals Plans For Reality Show
Written by MaxFM on May 24, 2018
Celebrity blogger cum media mogul, Linda Ikeji has announced to the public that she has just rented an 11-room mansion in Lagos ahead of upcoming reality show, "Made In Gidi". Linda, who is set to launch her TV, LITV on June 1st, posted pictures of the huge apartment on her Instagram page this afternoon.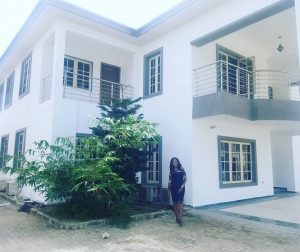 This closely follows the friction between her and Controversial Blogger, Kemi Olunloyo who publicly insists that Linda's pregnancy is false and the baby bump is just a 'moonbump'. Linda however doesn't seem to be daunted by this as seen in the response she gave on her IG account to friends who were worried about her trolls.
She said:
"I've been on the internet for nearly 12 years now, I've made money, I've met amazing people, I've written about folks and stepped on toes (mostly of course, unknowingly…lol). So when people troll me, that's fine. It's called Karma. Lol. Fortunately it doesn't get to me. There's nothing I haven't been called on the internet, and it will never stop because this is where I plan to do business for the rest of my life! So we all are stuck together. I'm not going anywhere…lol"
The 11-room mansion which she refers to as the production house, is said to contain '11 rooms, 3 sitting rooms, basketball court, swimming pool, gym, and an amazing kitchen'.
---