Man City Withdraws From Sanchez Race as Man Utd Close In
Written by MaxFM on January 15, 2018
Man City Withdraws From Sanchez Race as Man Utd Close In
Manchester City has pulled the plug on their pursuit of Alexis Sanchez, leaving rivals, Manchester United with a clear run at tying up a shocking deal for the Arsenal man in the coming days, according to reports.
City made it clear on Friday that they would walk away from the deal if the total price of a January move did not suit them, and that is exactly what has happened.
The final straw came when Alexis' agent, Fernando Felicevich, informed City in the past 48 hours that United are willing to pay more money in both wages and extra fees.
City have worked closely with Felicevich for the best part of the year and agreed the terms of a January transfer with him in recent weeks, and they were less than impressed to learn of his demands for more money at the eleventh hour. City's response was curt: we are no longer interested.
The Blues had initially been unsure whether United's interest was genuine and they had still been willing to negotiate with the Gunners and Felicevich, but changed their minds upon learning that a move to Old Trafford is a real possibility.
Pep Guardiola is believed to be on board with the decision to no longer pursue Alexis, despite making the forward his No. 1 target throughout last summer, and who he saw as the ideal candidate to help boost City's hunt for an unprecedented quadruple in the final months of the season.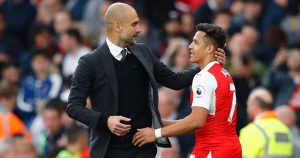 ---