Max 102.3 FM hits Lagos with exciting opportunities
Written by MaxFM on October 21, 2017
The commercial director of TVC communications, Mr Ronan redmond, also present at Max 102.3 FM launch, revealed the different opportunities for both advertisers and the targeted audience.
Mr Ronan revealed that Max 102.3 FM has a targeted of teenagers and young adults.
He said; "102.3 Max FM will offer advertisers a targeted audience of 15 to 34 years old adults, and we will help you reach that audience effectively & efficiently. We want to be creative & innovative with a range of new and exciting opportunities."
Mr Ronan highlighted that a lot of programmes will be going on, as Max 102.3 FM will come with superb weekend programmes. He further noted that the digital space wouldn't be left out as the station will be actively using it as a means to reach out to the targeted audience.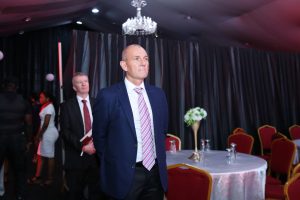 He concluded that a lot of opportunities will be open for individuals, business teams and companies. "We will be more flexible in all we do."
Read also: Photos: TVC Communications CEO, Andrew Hanlon Unveils Max 102.3 FM

---