MC Galaxy announces search for Jacob
Written by MaxFM on December 6, 2017
Nigerian Singer and Songwriter, Innocent Udeme Udofot, professionally known as MC Galaxy has a setup an acute search for Jacob who happened to be Bobrisky – Nigeria's famous cross dresser's former gate man.
Jacob was released of his job over allegations that he fraudulently received N 60,000 from his boss.
In a video  on YouTube, Jacob revealed he has been working for Bobrisky for the past 6 months, and has not been paid for his work.
According to this new development, it seems Bobrisky has just been using Jacob, and most of his snaps about paying Jacob might just be untrue.
Jacob says he does not have anyone in Lagos, and has pleaded for help.
Jacob also revealed that folks sent him money to him through Bobrisky, but then the cross dresser will pocket the money, and refuse to give him.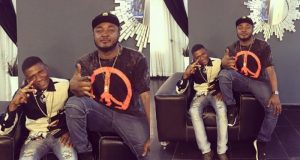 Jacob also said after he featured in MC Galaxy's song, MC gave him the sum of N40,000. But then his Boss, Bobrisky, collected everything from him.
Following reports that Jacob had been fired, MC Galaxy took to his IG page to announce that he was looking for the former gate man as he'd some amount of money to give him.
He wrote:
"JACOB IS NO MORE A GATE MAN ? So guys I came back from Miami 2 days ago and people told me JACOB can't even work on the road again lol ,, So I think its time to Bless him , now I have a budget of 2million naira for Jacob ?. So I need you guys to advice me on what to do for him with 2million naira
BEST ADVICE WINS
He is on percentage of THE SONG JACURB DANCE ????? keep supporting others , and pls JACOB IS NO MORE A GATE MAN".
In a later update, the singer said he was canceling a show in Rwanda because of Jacob and pleaded with his fans/followers to help locate the former gate man so he could take him to his village to go visit his father who is allegedly hospitalized.
"I just heard JACOBS FATHER IS SICK , in the village and I was suppose to go for my artist show in Rwanda, but because of this I will not be going again. I must make sure I take Jacob to his village 2morrow to see his father in the hospital, Guys pls if u can find him tell him to call my sound eng. Ifx on +234 818 622 6242 now and we will take it from deer ?help one another #giversneverlack ❤️ "
---