Debbie / On Air Personnel
---
Debbie shows
---
Adebola 'Debbie' Ajiboye is a Nigerian radio personality, producer, presenter, events host, and media entrepreneur. She co-hosts the Max Breakfast Show (Monday to Friday, 5 am – 10 am) on 102.3 Max FM Lagos. She also presents the MaxLinks (Saturday, 10 am – 12 pm) on the same station.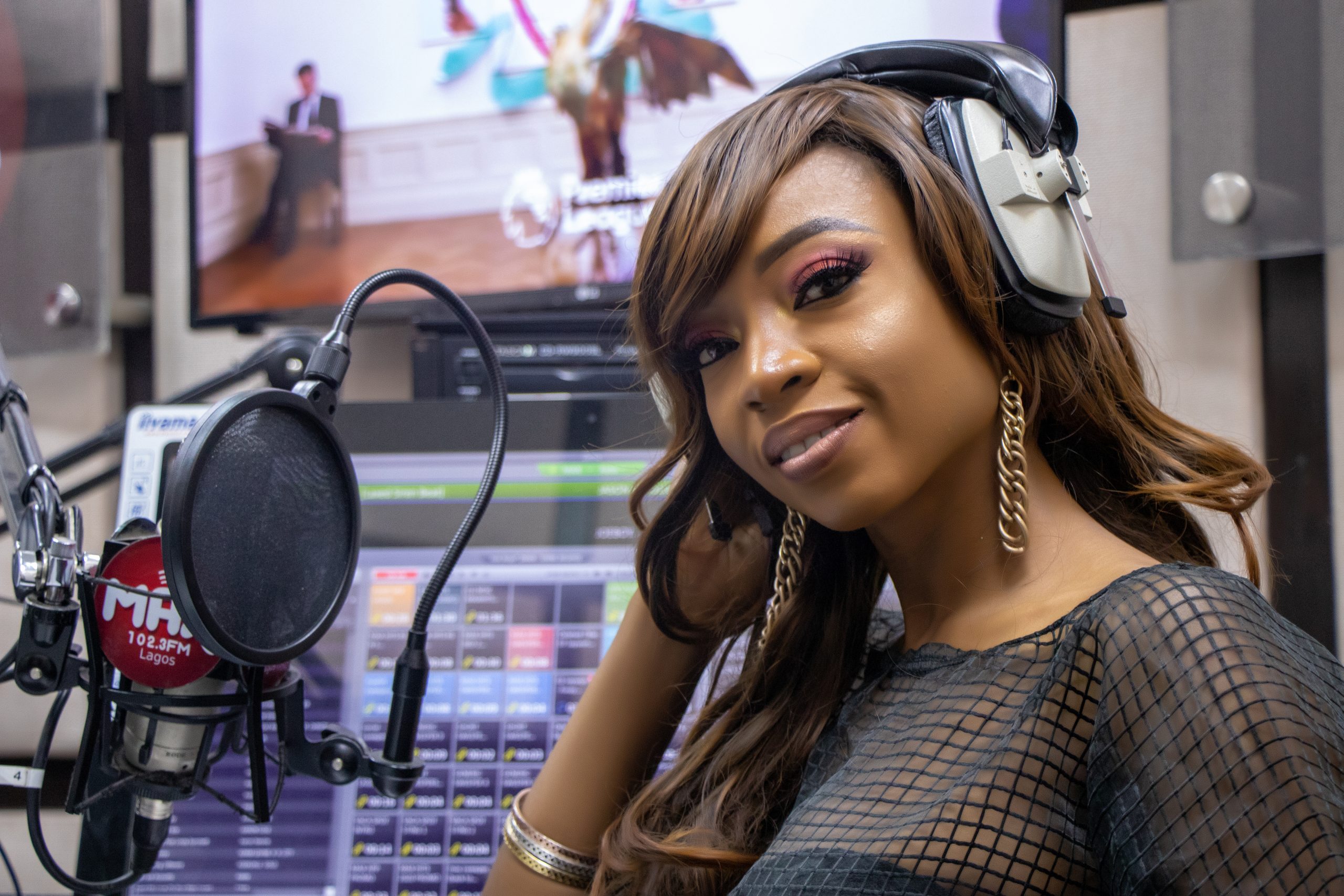 Debbie was born in Lagos, Nigeria on 17 December. She had her primary and secondary education in Lagos and Kaduna. While at secondary school, she was a Health prefect and got opportunities to represent her school at several Mathematics competitions. For her tertiary education, she graduated from Olabisi Onabanjo University in Ogun State with a degree in Applied Zoology in 2008. She then had her National Youth Service Corps service at the Federal Research Institute of Nigeria, Ibadan, Oyo state. During NYSC, she took French lessons, sat for the Alliance Francaise DELF Junior A1, and passed. It was after NYSC, she pursued her interest in broadcasting by getting a basic certificate in presentation at the Federal Radio Corporation of Nigeria Training School, now known as the Nigerian Broadcast Academy, Lagos.
After the 6-week course, she did her one-week internship at Radio Continental. After the internship ended, she was enlisted to work on some projects at the station as researcher and voice-over which eventually led to her being offered a full-time job in December 2011 as an On-Air Personality. After joining the roster officially in January 2012, she was asked to cover the major shifts, working her way from the midnight shift, midday shift, weekend belts, and evening drive before landing the morning show.  She then became the lead anchor for the breakfast show, Continental Breakfast show, which later became the Continental Sunrise, at Radio Continental up until the transition to MAX 102. 3FM.  While anchoring the Continental Sunrise, she had the opportunity of interviewing big personalities ranging from Politics to Entertainment, like the media aide to the Lagos and Ogun state governments, media aide to the Nigerian President, also popular filmmaker Kunle Afolayan amongst others. Asides', being an On-Air Personality, Debbie has worked as a programme's producer, news reader, and also voice-over on some of the radio campaigns. Debbie has remained the morning show anchor on Radio Continental even after it transitioned to Max FM and got asked to take up a slot on the weekend belt and host the Max Links. She has also appeared on some TV programmes the sister station Television Continental TVC as a guest commentator and a guest presenter.
Debbie is a listener's delight – any day, anytime and anywhere. She has the admirable talent of knowing at least one thing about everything and deploys that in interacting with people on various platforms. She's fun, witty, creative, intelligent, sings (in the shower), and loves to write. Her background in science has definitely helped in giving her the range that puts her ahead in terms of conversation.
In 2020, Debbie got nominated by the SCREAM All Youth Awards '20. She also was named one of the top 20 young Outstanding On-Air-Personalities of 2019 by RadioCast Ng. She was nominated Exquisite Lady Of the Year (ELOY) Award for On-Air-Personality 2019. She has also won the TVC's CEO Outstanding Member of Staff award.
Want to know more?
Well, catch the other extras by following her on twitter – @DebsExtra and on Facebook – Debola Debbie Ajiboye
---