Music artist, Duncan Mighty allegedly whisked away by men of the Police force over N11m deal that went sour
Written by AaronWeb on December 14, 2019
So the news making the rounds is that Duncan Mighty got into an agreement with Rochas Okorocha to basically mentor one of his boys known as M2 through the music industry, the contract included a music feature, a video shoot and to facilitate collaboration with other top artist in the music industry.
The contract was valued at N11M and Duncan Mighty was duly paid but never fulfilled his own part of the deal instead, a few months ago, he made a post that he would like to return the sum to avoid embarrassment and threats to his life.
Well, it was reported that the music artist, Duncan Mighty was picked up early morning today the 14th of December by men of the police force at gunpoint outside of a night club in Owerri, Imo state.
The arrest was initiated by a petition made by the upcoming rap artist M2, who claimed that the Imo State Government led by Owelle Rochas Okorocha, through the office of the SA on Entertainment, enter into a deal with Duncan Mighty to manage, promote, arrange collaboration with other top artist and sign M2 under Young Wealth record label owned by Duncan Mighty.
This agreement was sealed with a fee of N11 million which was paid to him, however, since collecting the payment, Duncan Mighty didn't fulfill his part of the deal. Before today, the artist was arrested, and he confirmed going into an agreement but said he can only refund the money if the contract is terminated. Based on this promise, he was released. This led to a termination of the contract by the representative of the former Governor, to ensure he refunds the money, however, since then, Duncan Mighty could not be reached. According to the statement, "he absconded." Because of the above, a warrant of arrest was issued, that led to his arrest at the early hours of this morning.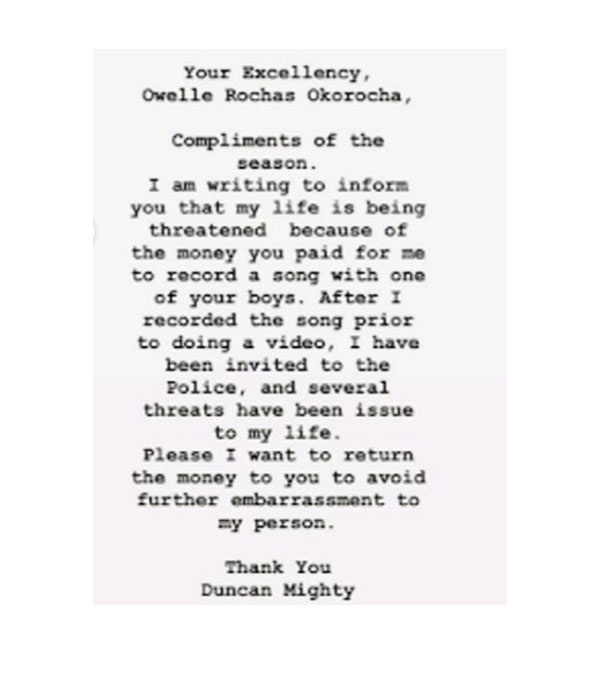 ---