NICK CANNON WRAPS HIS FACE AROUND KEVIN HART'S PRIVATE JET
Written by Max1023fm on September 29, 2021
The prank war between American entertainer Nick Cannon and his friend Kevin Hart seems not to be over, as Nick has taken things to another level by wrapping a poster of his upcoming comedy show all around Kevin Hart's Lear jet.
Nick Cannon revealed this via his Instagram page sharing a picture of his mischievous act writing, "Snuck into #kevinhart4real private hanger over the weekend and personally wrapped his Leer Jet with my whole Face! So now everywhere he flies he will be promoting my New Show!!! Gotcha Back *BLEEP*!!! #PrankWars #WeDontStop #NickCannonShow "Kevin Rides The Cannon!!!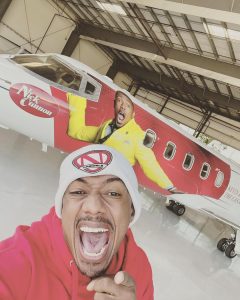 If you would recall this prank war all started when Nick Cannon bought a big llama as a birthday gift for Kevin Hart, in retaliation Kevin also paid for an actual billboard where he made fun of Nick Cannon welcoming four of his seven children just this year, writing: "For any advice on fatherhood? Call my best friend Nick Cannon," and he put up Nick's actual phone number.
We guess we should now be expecting a payback from Kevin Hart pretty soon.
---