Nicki Minaj Shares Cute Video of Her Son Hiding His Face
Written by maxfmeditor2 on March 18, 2022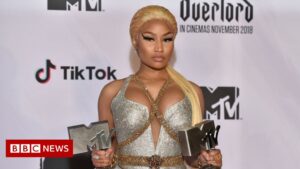 Nicki Minaj took to social media recently to share a cute video of her adorable son.
The rapper told millions of followers that her little man makes her call him "so he can ignore me". She expressed that she loved the boy so much.
Nicki Minaj took to Instagram to post the cute clip of her 'Papa Bear' pulling the covers over his face and hiding from her. The Moment 4 Life hitmaker added that at first she was worried that her son was not hearing her when she called.
See post below;
---